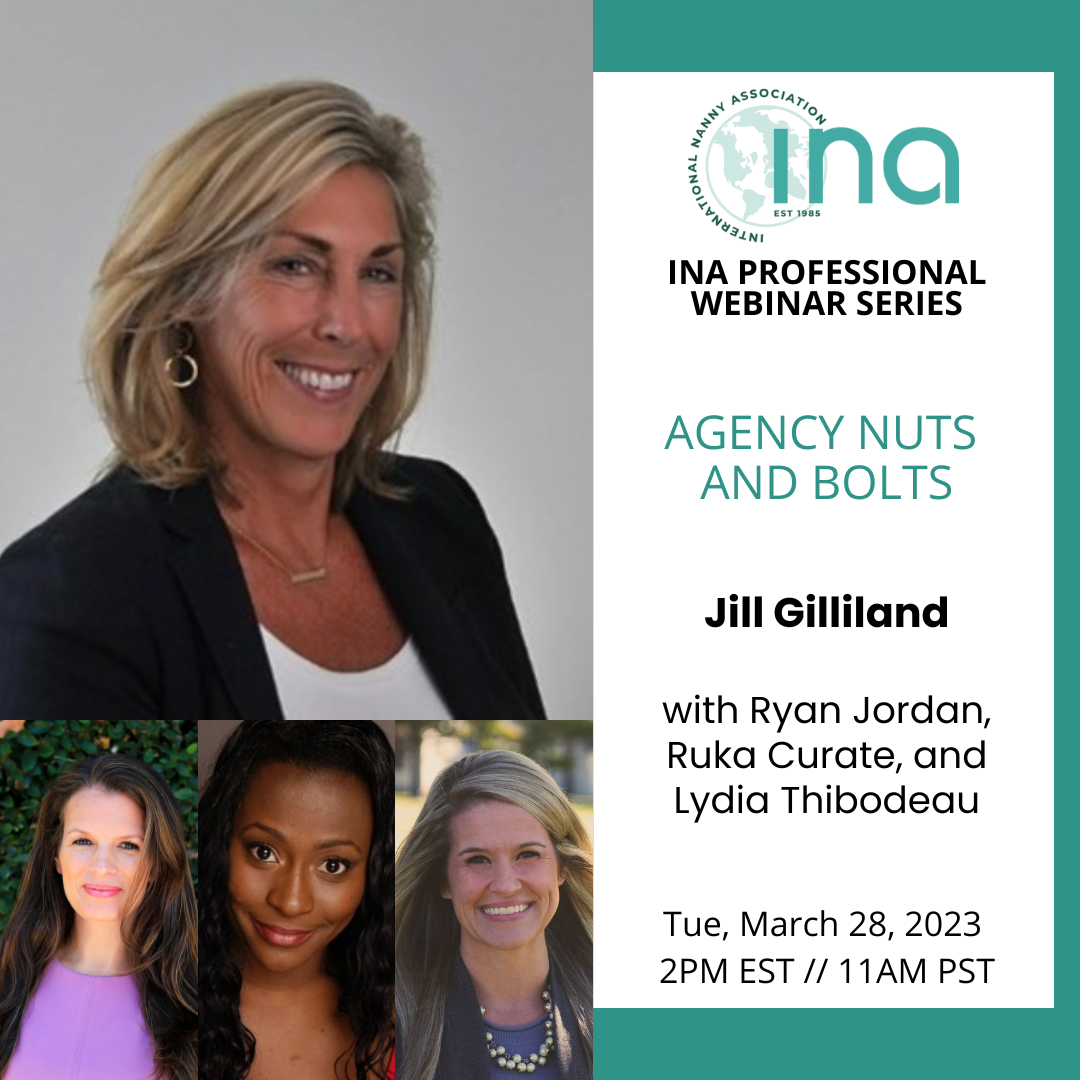 Join these industry professionals as they share details about insurance, financials, legal entity, contracts, business models, hiring, and using a consultant.
INA Members Register for Free - Non-Members Fee $25. 
Jill Gilliland: Jill's 16 years of C-suite leadership work includes facilitation and business coaching in areas such as strategic planning, growth strateties, marketing, and recruitment. She has a high level of energy and builds strong client relationships by coaching, growing, and adapting to clients' needs and feedback. With 15 years as the CEO of Melnic, a healthcare recruiting company, she established a community of leaders, built leadership development workshops, mentored leaders, and coached leaders.
She effectively utilizes world class principles and practices to coach top talent to help them see their potential and achieve their goals. In addition she brings her background in leadership, strategic planning, finance, team building, and business development to her facilitation and coaching engagements. She approaches all efforts with a tenacious, energetic, agile, and problem-solving mindset.
Ryan Jordan: Ryan is the founder and CEO of the award-winning nationwide agency Educated Nannies located in Los Angeles. She also hosts The Educated Mama podcast and she consults with parents and nannies. Ryan has over twenty-five years of experience working with children and families as a childcare expert, teacher, positive discipline educator, nanny, and tutor. She was also featured in the Northwestern Mutual 2020 fall campaign for female entrepreneurs who successfully pivoted during a pandemic. 
Ryan earned a multiple-subject teaching credential and a Master of Arts in Education from Pepperdine University. In addition to teaching, Ryan spent more than six years as a teacher and full-time professional nanny for high-profile families in LA. Educated Nannies earned the Red Tricycle Award for Most Helpful Childcare Agency in Los Angeles. Ryan was also featured in the Huffington Post for young entrepreneurs who inspire others, and she was nominated for the LA Business Journal's Women Making a Difference Award.
In addition to guiding families and consulting, Ryan is happily married and the proud mother to a son and daughter who fill her days with laughter, an abundance of love, and motherhood challenges.
Ruka Curate: Ruka is a skilled matchmaker committed to fostering harmonious relationships between families and nannies. As the founder of Tiny Treasures Nanny Agency, Ruka is aware that a solid rapport is essential for a successful match. She takes pride in finding the ideal match between parents and childcare providers, thereby providing parents with peace of mind and children with a stable, enriching environment.
Ruka is an ardent supporter of legal pay and equitable treatment for nannies. She advises her clients on the importance of non-discriminatory hiring practices and informs them of the legal protections afforded to various groups. With over 14 years of experience as a nanny herself, Ruka is an expert in the field due to her unique perspective on both sides of the equation.
As the mother of a beautiful little girl, Ruka understands the significance of finding nearly ideal matches between families and babysitters. Her desire to assist others extends beyond her professional duties. Ruka is a member of the International Nanny Association's board of directors, where she hopes to positively impact the industry.
Lydia Thibodeau: Lydia is a highly regarded expert in the childcare industry who takes pride in her ability to make excellent matches between nannies and families. Lydia has presented at the International Nanny Association (INA) conference and has been a contributor in Forbes, the Boston Globe, WGN radio, and the Chicago Tribune. Lydia holds a Bachelor's Degree in Marketing from the University of Illinois at Chicago and resides with her family in Boston, MA. In her free time, Lydia enjoys spending time with her husband and sons, reading, and running.